Billy Bishop Pedestrian Tunnel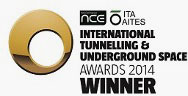 Project Delivery:
Design & Build
Tunnel Equipment:
TBM & Roadheader
Primary Support:
Cast in Place Lining
Ground Conditions:
Georgian Bay Formation
The Billy Bishop Pedestrian Tunnel is an underwater pedestrian access point which links mainland downtown Toronto to the Billy Bishop Island Airport. It is one of the largest open excavations in Georgian Bay formation shale, with a shaft size of 14m x 30m x 35m deep (14m of overburden).
The tunnel itself is 186m long with an irregular shape of 11m wide and 9m high with only 6 meter coverage underneath Lake Ontario.  The tunnel was built to provide fast, reliable service to the airport. The entire project was constructing next to the 9th busiest airport in Canada in the heart of the downtown of the largest city in Canada.
In order to reduce the risk of a potential catastrophic inflow of water with only 6m of cover between the crown of the tunnel excavation and the bottom of Lake Ontario, Technicore came up with a solution to mitigate the risk. A protective canopy of interlocking small diameter tunnels was constructed above the main tunnel. Small diameter (1.8 m) Tunnel Boring Machines ("TBM") were used to excavate seven interlocking concrete filled drifts at the crown of the tunnel to form a canopy ahead of main tunnel excavation and provide stability.
Due to the nature of the shale in the GTA, which frequently has fractures that allow water infiltration, and the fact we were tunneling under Lake Ontario, Technicore decided to use a pair of 74" EPB TBM for the canopy of the tunnel excavation.
Owner:
Toronto Port Authority
Completion Date:
May 2014
Diameter:
9 meters high x 11 meters wide
Consultants:
Hatch Mott MacDonald
Contract Amount:
$35,500,000
The tunnel portion of the project was located entirely in shale. However, the shafts, which were 6 m from Lake Ontario, had 12 m of overburden to support. Technicore acquired two drill rigs from Italy as well as world class operators to operate them. This was crucial as the secant piles that supported the overburden had to be drilled deeper than anticipated due to effects of the 1935 tunnel construction.
While this enabled the shaft to be excavated, it didn't stop the water from seeping into the shaft at an alarming rate of over 1000 L/min. Technicore enlisted the help of a local contractor to inject urethane into the shaft and seal up 80% of the infiltration, reducing the volume to 200 L/min.
2015 Canadian Concrete Structural Design
2014 Canadian Tunnel Project of the Year
2014 International Specialist Tunnel Project of the year
Article:
Trenchless International (Winter 2015) Innovation Award
Article:
Tunnels and Tunneling (Winter 2014)
Article:
Shotcrete Magazine (Fall 2014)
Article:
North America Tunneling Journal (October/November 2013)